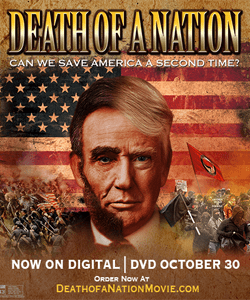 KLO with your chance to win a copy of DEATH OF A NATION on DVD.
Abraham Lincoln united his party and saved America from a divided nation for the first time. Can President Trump – and we – come together and save America for the second time?
Death of a Nation: Can We Save America A Second Time?, is the latest film from #1 New York Times bestselling author Dinesh D'Souza, and Academy Award Winning producer, Gerald R. Molen.
Through stunning historical recreations and a searching examination, Death of a Nation cuts through progressive lies to expose hidden history and explosive truths.
Own it on Blu-ray & DVD October 30th. On Digital now.
Enter now for your chance to win!